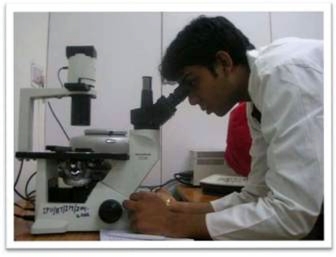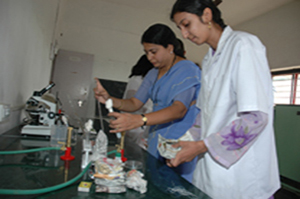 B.Sc. Biotechnology
Biotechnology has become the latest sunrise in the Indian as well as World economy, as it is fast gaining around to be at par with the informationtechnology sector.Biotechnology is often referred to genetic engineering technology of the 21st century; however, the term encompasses a wider range and history of procedures for modifying biological organisms according to the needs of humanity, going back to initial modifications of native plants into improved food crops through artificial selection and hybridization. Bio-Technology is a research oriented science, a combination of Biology and Technology. It covers a wide variety of subjects like Genetics, Biochemistry, Microbiology, Immunology, Virology, Chemistry and Engineering and is also concerned with many other subjects like Health and Medicine, Agriculture and Animal Husbandry, Cropping system and Crop Management, Ecology, Cell Biology, Soil science and Soil Conservation, Bio-statistics, Plant Physiology, Seed Technology etc. Bio-Technology is the use of living things, especially cells and bacteria in industrial process.
Job Opportunities: Pharmaceutical companies, Agriculture oriented companies, Genetic engineering Cloning Medicine producing companies Chemical industries Research works on various fields related to agriculture, crops, drugs, etc Animal husbandry Health care Drug Inspector, Food Inspector Drug and Pharmaceutical research, Environment control, Waste management, Energy, Food processing & Bio-Processing Industries, Tanning Industries. etc
Course Curriculum Information
Course Duration:

 

Three Year (Six Semester Exam) Degree Course

Eligibility:

 

H.S.C (12th Standard) from Science stream OR MCVC from Maharashtra State Board of Secondary & Higher secondary education, Pune, or any other examination equivalent thereto.

Intake Capacity:

 

60 Seats

Passing Criteria:

 

In order to pass the examination of B. Sc. Bio Technology, a candidate must secure atleast 40% of marks in each paper (theory & sessional together) & Project work as well as 50 % in aggregate of three years.
Sr. No
Sub code
Subject name
Theory
Sessional
Practical
Semester I
1
I
Physical Chemistry
50
–
50
2
II-OIC
Organic & Inorganic chemistry
50
–
50
3
III-MCD
Microbial Cell & diversity
50
–
50
4
IV-BST
Biostatistics
50
–
50
5
V-INS
Instrumentation
50
–
50
6
VI-BML
Biomolecules
50
–
50
7
LC-I
Organic and inorganic Chemestry
50
–
50
8
LC-II
Microbiology
50
–
50
9
LC-III
Instrumentation and techniques
50
–
50
Semester II
10
VII-OIC
Organic Chemistry
50
–
50
11
VIII-IPC
Inorganic & Physical chemistry
50
–
50
12
IX-MGC
Microbial growth & Control
50
–
50
13
XII-BTC
Biomathematics
50
–
50
14
XI-MML
Macromolecules
50
–
50
15
XII-BTC
Biotechniques
50
–
50
16
LC-IV
Inorganic and Physical Chemestry
50
–
50
17
LC-V
Biostatistics and Mathematics
50
–
50
18
LC-VI
Biomolecules and Macromolecules
50
–
50
Sr. No
Sub code
Subject name
Theory
Sessional
Practical
Semester III
19
XIII-BIM
Basics of immunology
50
–
50
20
XIV-GVG
General Virology
50
–
50
21
XV-DVB
Developmental Biology
50
–
50
22
XVI-CSI
Chromosome structure and Inheritance
50
–
50
23
XVII-BEZ
Basics of Enzymology
50
–
50
24
XVIII-APL
Animal physiology
50
–
50
25
LC-VII
Immunology and Virology
50
–
50
26
LC-VIII
Inheritance and Development Biology
50
–
50
27
LC-IX
Enzymology and Animal Physiology
50
–
50
Semester IV
28
XIX-CBG
Cell Biology
50
–
50
29
XX-PPL
Plant Physiology
50
–
50
30
XXI-GEN
Genetics
50
–
50
31
XXII-CDG
Central Dogma
50
–
50
32
XXIII-AEZ
Advanced Enzymology
50
–
50
33
XXIV-AIG
Advanced Immunology
50
–
50
34
LC-X
Cell Biology and Plant Physiology
50
–
50
35
LC-XI
Genetics and central dogma
50
–
50
Sr. No
Sub code
Subject name
Theory
Sessional
Practical
Semester V
37
XXV-REG
Regulation of gene expression
50
–
50
38
XXVI-ITB
Introduction to Bio-informatics
50
–
50
39
XXVII-PGE
Principles of Genetic Engineering
50
–
50
40
XXVIII-FDP
Fermentation Design and Process
50
–
50
41
XXIX-PTC
Plant Tissue Culture
50
–
50
42
XXX-CBC
Clinical Biochemistry
50
–
50
43
LC-XIV
Gene Expression & Basic Bioinformatics
50
–
50
44
LC-XIV
Genetics  Engineering and Fermentation
50
–
50
45
LC-XV
Plant tissue culture and clinical Biochemistry
50
–
50
Semester VI
46
XXXII-GNP
Genomics and Proteomics
50
–
50
47
XXXIII-RDT
Recombinant DNA technology
50
–
50
48
XXXIV-FTC
Fermentation Technology
50
–
50
49
XXXV-BET
BioEthics
50
–
50
50
XXXVI
Metabolism of Macromolecules
50
–
50
51
XXXVII
Ecology and Evolution
50
–
50
52
LC-XVI
RDT & Fermenntation Technology
50
–
50
53
LC-XVII
Metabolism, Ecology and Evolution
50
–
50
54
LC-XVIII
Dissertation in Lieu of Genomics-Proteomics and Bioethics
50
–
50
RMLI College Of Bioscience & Technology